How to grow your Instagram followers the "organic way"
Social media plays a great part in growing your brand digitally, especially if you are new and taking baby steps in promoting your brand.


Of course, almost every brand has a Facebook page, but what about an Instagram account?


According to Instagram, 80% of accounts follow a business on Instagram. And there are over 500 million Instagram accounts that are active on a daily basis. Imagine how many users your brand can reach out to via this social media platform?


So how do you reach out to these users via your Instagram account?


Here are a few things to observe:


Your content
Make sure your content on your Instagram is consistent, or tells a story or your brand. There are a few way you can make your content work. Because Instagram is a photo-based social media platform, what your followers first see when they visit your Instagram account are the photos on your account. So be sure that your Instagram page is aesthetically attractive and interesting.


Say you're running a travel agency, and you want to gain more followers on your Instagram. Your Instagram account should be filled with pictures of breathtaking images of to attract these wanderlust followers.


If your brand is selling designer goods, bombard the page with all the pretty designer clothes and bags and shoes.


Make your content as relatable to your brand as possible, you catch the drift.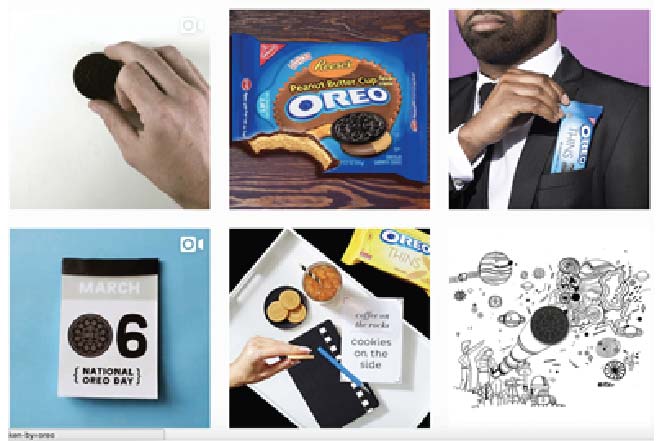 Source: Instagram @oreo
Make your feed aesthetic
Once you have your content ready, it's time to prosecute them in the best way you can.


Creating content may be easy, but making the content look beautiful and aesthetic as a whole is a challenge.


You can start by going with a theme


If your brand has a primary color, make use of it as your primary colors in your theme. A few common colors that are bound to attract the eyes are red, yellow and blue.


Bear in mind; different themes attract different followers. Hence, a black and white feed will attract followers who are into artistic and dark mood themes.


If you're planning on using filters on your pictures, make sure your filters are always consistent.


This will create an automatic theme for your brand and followers like consistency and uniformity in a feed.


A theme can easily attract the attention of a user if it's so aesthetically presented that the user will not hesitate to hit the "Follow" button.


So before you start posting your content, make sure you plan your theme colors, filters and also mood before you start.


Strong hashtag game
10 years ago when you see #, you call it the "pound button" on your phone dial screen. Show this symbol to the kids now and they'll laugh at you for calling it the "pound button".


The hashtag was introduced and used back in August 2007 by Chris Messina, a techie from San Francisco and a former Google developer, on Twitter.


Read about the "origins of hashtag" here.


Now hashtag is so heavily used in all social media platforms.


Why is a hashtag so important?


A hashtag is used by social media users to search for a specific event or topic or category in the social media world.


The importance of including hashtags is significant as it brings your post out to the public and everyone searching for that specific hashtag will see your post. The likeliness of them clicking into your picture is higher if they found your picture attractive and interesting, which also leads to them clicking into your Instagram account.


Here are some hashtags that you can use, categorized according to the relevance of your Instagram posts.


You can go up to 30 hashtags per post to maximize the capability of the hashtag game, however, is 30 hashtags per post necessary? Some will say that it will bring down the credibility of your post, or even, making you look spammy and amateur. Instead, use about 5-11 hashtags per post, and make sure they're relevant and match your brand and pictures.


However, you should create your own brand hashtag so that it is specifically for your brand.


Your brand hashtag does not necessarily be just a one-word hashtag. Play around and create a phrase of your own!


Promote your Instagram on other platforms
If you already have a bunch of followers on your Facebook or Twitter or any other social media platforms, you can post a shoutout there and ask your followers to follow you on your Instagram account too.


Add your Instagram handle on your profiles and even on email signatures.


If you already have a website, add a widget to your website with your Instagram live feed and a clear "Follow" button for the ease of your new followers.


Get boosted help from KOL or influencers
Key opinion leaders aka KOL and social media influencers are the experts in product knowledge and has influence in the social media world. These influencers usually have a big scale of followers who they can sell a product to and easily get their attention.


Collaborate with influencers especially if your brand is new and needs to get some attention.


KOLs and influencers can be a vast of variety, ranging from superstar celebrities or just someone with a lot of followers on their Instagram.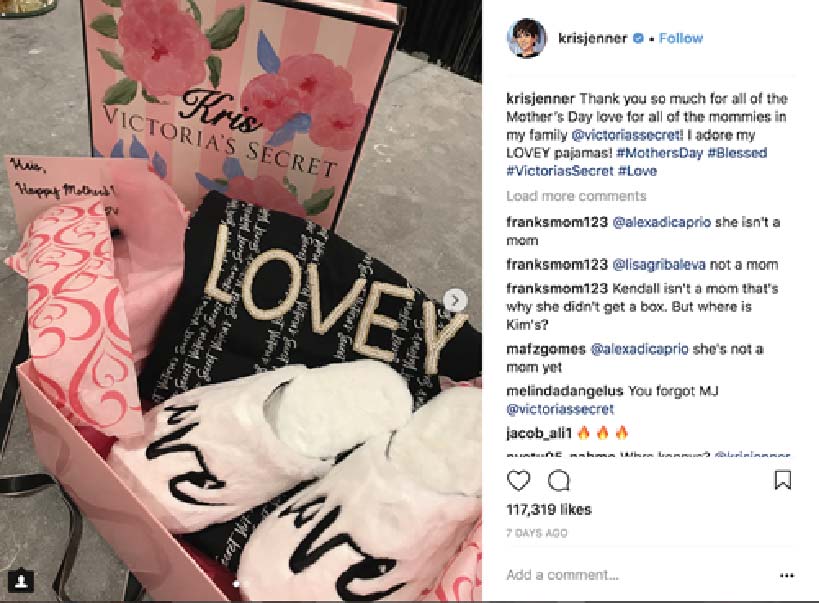 Source: @krisjenner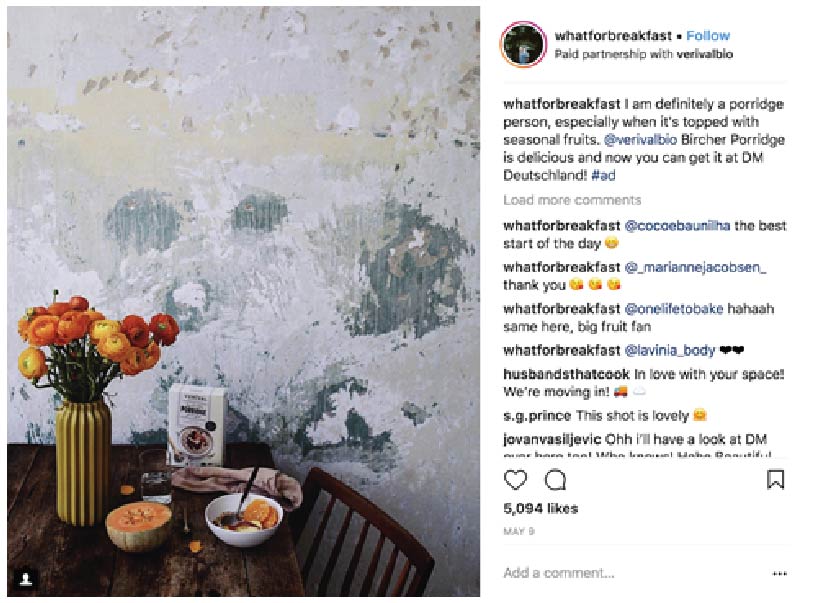 Source: @whatforbreakfast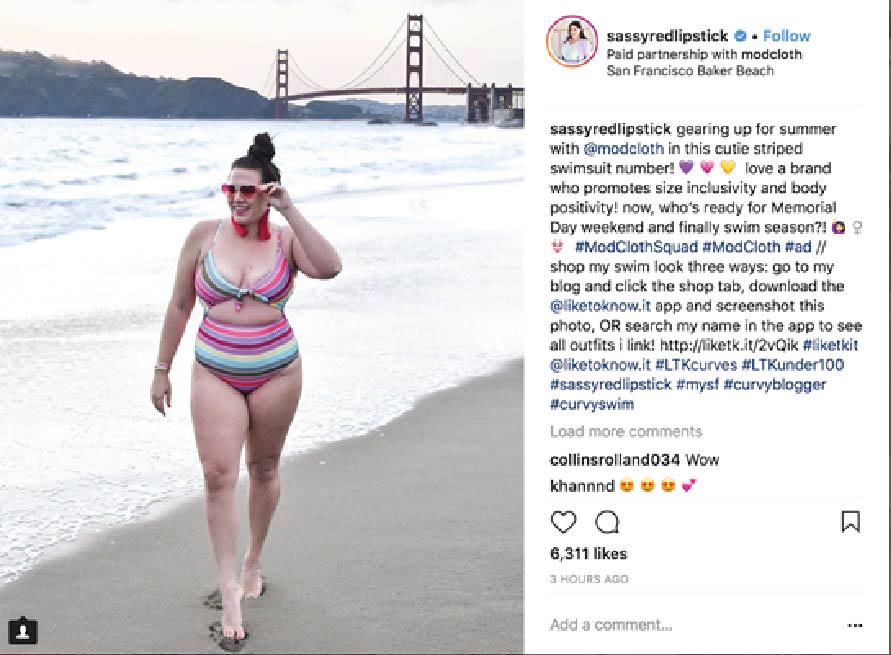 Source: @sassyredlipstick

When working with KOLs, not all have the same style or price package. You can engage with a local influencer with not as much followers who will contribute a post on their Instagram for free, given that you send them your brand products for them to review. Some might charge you a hefty amount but will be able to provide higher ROI to your brand. It all comes down to your budget and whichever you are comfortable with.


Just make sure you discuss with the influencers on what you are expecting from their posts and what is the target you're trying to achieve, and they will be able to give you some ideas and feedback.


There are plenty of ways to boost your organic followers. So here's the breakdown of what we've learned:
Interesting content
Consistent visuals/filters
Hashtags, hashtags, hashtags (but not too many)
Get promoted by KOL and influencers


It takes time to build a massive amount of followers, so just be patient and start off by inviting your friends and family to start following your page, and get them to invite their friends.