It's probably no secret how everyone is after one of Google's greatest secrets – its page ranking algorithms, and how the algorithm gets updated as time goes along. While the precise programming logic is something one might not be able to actually determine in this lifetime, the globally leading search engine site has regardlessly left some clues that help those in the SEO-field to better understand how Google works, and how to improve their site rankings. Some of these hints surfaced back in 2015, when Google released a full document of its Search Quality Evaluator Guidelines (SQEG), a PDF document of more than 160 pages.
These guidelines are important for SEO in marketing, as they serve as a reference point for Google's human search evaluators– people who rate the performance of Google's ranking algorithm, and help study the impact of an update. More importantly, they are the ones who also look at web pages, and use these guidelines to differentiate high-quality content from low-quality ones.
"So what's in it for me?", you might ask. Well, we've managed to condense the information in this lengthy piece of a document, into a 5-minute analytical summary for your reading pleasure right here, in an attempt to perhaps take you through the minds of the people at Google. The above-mentioned guidelines can essentially be broken down into three key golden nuggets that we will dive into greater detail:
Beneficial Purpose

(Website Identity)

E-A-T (Expertise, Authoritativeness, Trustworthiness), or Page Quality
YMYL (Your Money or Your Life)
1. Beneficial Purpose
Above everything in the SQEG, Google has seemed to consistently place an emphasis on the concept of beneficial purpose – that is, that all websites need to serve a beneficial purpose to the general reader. As the SQEG defines it, the purpose of a page is the reason(s) why the page was created. Every page on the internet is created for a specific purpose, or for multiple ones. Most pages are created to be helpful for its readers and users, thus having a beneficial purpose. On the other hand, some pages are created merely to make money, with little or no effort to help users, while some, even created to cause harm to others. The first step in understanding a page is figuring out its purpose.
How Google does it, is determining how well a webpage achieves its purpose, and thereafter, giving it a Page Quality (PQ) rating. In order to assign a rating, one needs to understand the purpose of the page, and sometimes the website. By understanding the purpose of the page, one can better understand the criteria that are important to consider when evaluating that particular page. As websites and pages should be created to help users, ones that are able to and serve a beneficial purpose, will result in receiving a higher PQ rating, whereas those that don't, conversely end up receiving a lower rating.
And while a page should fulfil its intended purpose, that purpose, should also be user-centered – that is, whether the page is to emote certain feelings in the reader, sell them something, teach them, inform them, etc. As Google puts it below:

In other words, your site and page should be about your users and readers, first and foremost. Beneficial purpose plays right into that because it means your site and content should have a user-focused purpose that benefits them in some way.
2. E-A-T
E-A-T stands for Expertise, Authoritativeness, and Trustworthiness – a measurement that Google's evaluators use to rank pages. Clearly, if a page has a high level of EAT, it would be a high-quality one, whereas a low level of EAT results in a low-quality page.
A high level of EAT that gives rise to a high-quality page would embody the following elements:
Having enough content
Being an expert, and being authoritative and trustworthy regarding the topic it discusses
Having a positive reputation
Featuring enough auxiliary information, such as an "About us" and/or "Contact us" page
Featuring supplementary content that enhance the user's enjoyment and experience
Being designed in a functional and practical fashion that allows users to easily navigate through and to the information that they want
EAT has a direct impact on both a web page's quality level, and its reputation on the web altogether. In order to be seen as high-quality, Google has stated that "websites require enough expertise in order to be authoritative and trustworthy on the topic at hand".
At the same time at this juncture, it should be important for us to note that EAT is not directly an explicit ranking factor – since computers only understand bits and bytes, and you can't tell them to rank pages based on an intangible human concept such as EAT. Expertise, Authoritativeness, and Trustworthiness themselves are also not individual ranking factors. 
EAT and ranking are, however, somewhat linked, and there is a certain correlation. A variety of 'signals' are still used as a proxy to tell if content seems to match EAT as the humans would access it, and Google engineers are able to understand the tangible signals that align with EAT, and adjust the ranking algorithms accordingly. Google paints a clearer and more detailed picture here and in this video.
3. YMYL
Websites that sell products and/or provide services and information that can impact a user's happiness, health, safety, or financial stability ('general wellbeing' in short) are classified by Google as YMYL – standing for "Your Money or Your Life". 
Google is particularly sensitive regarding content in this classification, as low-quality YMYL has the potential to negatively affect the four states of a reader's 'general wellbeing', as mentioned above.
YMYL-type of sites are hence held to the highest standards as the stakes are relatively incredibly high when it comes to such types of content. 
Some industries that fall under YMYL include e-commerce, financial services, legal, and healthcare sectors, and below are some examples of YMYL topics according to the SQEG: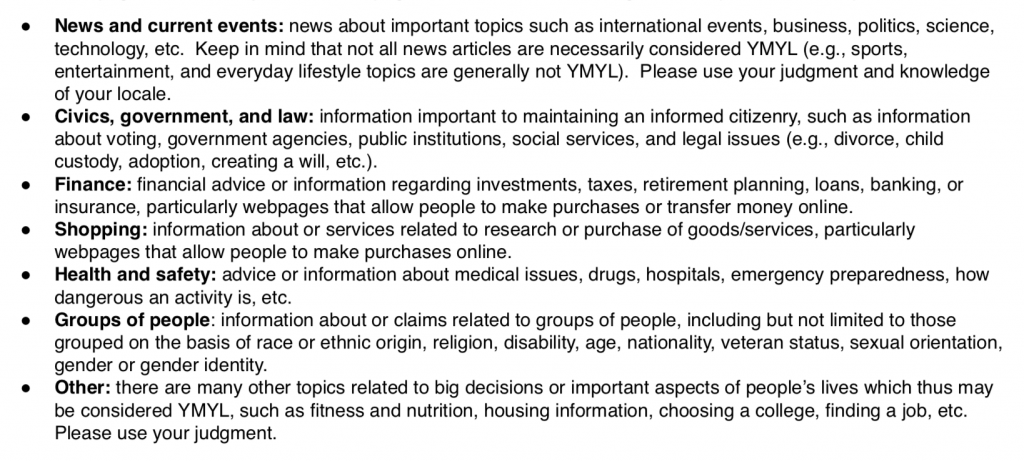 So, the bottom line when it comes to YMYL? Make sure that any content on your website will help – not hurt – the people who read your content on your pages. Make your users feel safe.
How these three elements just discussed above add up to importance for you, is simply how you as a content producer and/or information provider will need to ensure that your content remains as high-quality as possible in terms of EAT and YMYL, while serving a beneficial purpose. Content that is curated with high-quality in mind, will undoubtedly get ranked by Google, and ranked well at that. EAT is essentially important for your site's SEO, and is a characteristic of a high-quality page. Make an effort to improve it constantly, especially if you cover YMYL topics, and these efforts will show in your page's rankings.
At Weave Asia, we are committed to growing your business, and helping you land in the front page of leading search engine results, while getting your customers engaged, interested, and having you at the top of their minds, at the right times. If you might be interested in some SEO content writing tips, or even in enquiring more on the digital marketing services we provide, feel free to contact us for a consultation today!

Content Sources:
What is E-A-T? Why It's Important for SEO
E-A-T, YMYL & Beneficial Purpose Explained
E-A-T & YMYL: How to Boost Your On-Page SEO
Google's E-A-T: Busting 10 of the Biggest Misconceptions
EAT, YMYL, & Beneficial Purpose: What Do Google's Quality Standards Mean for Search?