In this second part of our Beginner's Guide to SEO blog series, we will take you through how to start with SEO in five steps and how to get your website listed on Google. Let's get started!
How to get started with SEO?
SEO incorporates five (5) main steps:
Keyword research

– Finding out what consumers are searching

Content creation

– Crafting the right content for your target audience

On-page SEO

– Making your content as clear as possible

Link building

– Building credibility and authority from other websites

Technical SEO

– Assisting search engines to find, crawl and index your content efficiently
These five steps will be the main focus of our beginner's guide to SEO.
Setting up for success
When your website is correctly configured for SEO success, performing SEO is considerably simpler. Let's examine a couple of ways to do that:
Get a good domain
Don't worry if you already have a domain because most of them are suitable for SEO. But if you're still looking, consider these two characteristics of a quality domain:

a) Domain name
Here, a succinct and memorable phrase is best. Avoid attempting to cram keywords in. Your safest bet is often your company name without any unique characters or hyphens.

| | |
| --- | --- |
| Good domain names | Bad domain names |
| singaporeinternationalrestaurant.com | sgfood.com |
| malaysiabestcuisines.com | mysedap.com |
| singaporebesthotels.com | sgstays.com |
b) Top-level domain (TLD)
It's the bit that comes after the name, such as '.com'. For SEO, it makes no difference what TLD you choose.  But since it's the most well-known and reputable extension, we believe .com is better for most websites. If you run a charity organisation, your country's equivalent of .org is also acceptable. Your country code top-level domain (ccTLD), such as .co.uk is also acceptable if you solely conduct business in one nation outside of the United States. 
In the meantime, avoiding TLDs like .info and .biz is better because they are frequently associated with spam. However, if you have one, it's not the end of the world. You can still create a reliable, high-ranking website with it.
Use a website platform
Website management and creation are made simple by website platforms. The two are as follows:
Hosted platforms

– You are taken care of in every way. They provide hosting for the website, pre-made templates, and the ability to add and change content without touching any code.

Self-hosted platforms

– You can add and change content with these without using any code. The only difference is that you are required to install and host them yourself.
A self-hosted, open-source platform like WordPress is advised by the majority of SEOs because:
It's customisable

– The open-source code is editable however you choose. There is also a sizable development community that is intimately familiar with the platform.

It's extensible – Countless SEO plugins among the millions are available to enhance its functionality.

However, a hosted solution can be a better choice if you place high importance on support and usability. For most people, a hosted solution offers sufficient SEO capabilities for them.
Use a good web hosting service
You will require a web host if you're utilising a hosted service. The web hosting service keeps your website on a hard disc that is accessible to anyone with an internet connection. When selecting one, remember the following:
Security

– Get a free SSL/TLS certificate, please. Or, at the absolute least, assistance with Let's Encrypt, a charity that offers free certificates.

Server location

– Data transfer between the server and the visitor takes some time. Selecting a host with servers in the same nation as most of your traffic is therefore recommended.

Support

– 24/7 support is best. Before you sign up, ask the questions above to gauge how responsive their help is.
Create a positive user experience
Google wants to rank websites that provide users with a satisfying experience. Let's examine a couple of options for doing this:
Use HTTPS
Nothing is worse for visitors than having their private information at risk of leakage by hackers. Always use SSL/TLS encryption on your website.
Pick an appealing design
An old web design will not attract anyone. Therefore, even though you don't need to revamp your website frequently, it should still appear modern and represent your brand well.
Make it mobile-friendly
Nowadays, mobile searches outnumber those on desktop. Your website must be as easy to use on mobile as on desktop.
Choose a readable font size
People use various devices to browse the internet. Ensure that your selected font is readable on all devices.
Avoid intrusive pop-ups and ads
Everyone hates ads, yet occasionally, they are necessary for business. If you can help it, stay away from obtrusive interstitials. These could cause pages to rank less highly.
Make sure the website loads fast
Page speed affects both desktop and mobile rankings. However, this does not imply that your website must load instantly. Only pages that give users the slowest experience are impacted poorly.
Create a seamless site structure
Visitors and search engines should have no trouble finding content on your website. For this reason, it's crucial to establish a logical hierarchy for your content. To accomplish this, create a mind map: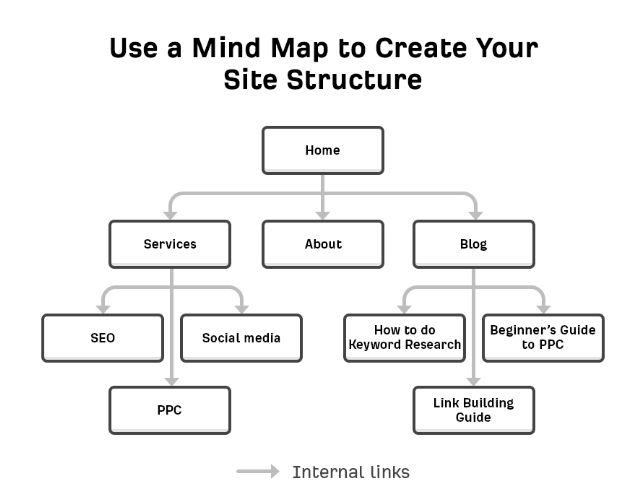 Each branch on the map turns into an internal link or a connection between pages on a website. For several reasons, internal links are essential for both UX and SEO:
They assist search engines in finding new pages

– Google won't be able to index pages it can't find

They assist in passing PageRank around your website

– The basis of Google search is PageRank. By examining the number and calibre of links pointing to a page, it determines the page's quality. Google is still using it now.

They help Google and other search engines understand what your page is about

– For this, Google examines the clickable words in the link, sometimes referred to as anchor text.
Use a logical URL structure
The purpose of URLs is to aid searchers in understanding the context and content of a page. You can customise the format of your URLs on many internet systems. These are the top five URL choices in WordPress:


Plain

– website.com/?p=123

Day and name

– website.com/2023/03/04/seo-basics/

Month and name

– website.com/03/04/seo-basics/

Numeric

– website.com/175/

Post name

– website.com/seo-basics/
Choose the structure that is the most transparent and detailed when creating a new website. The post name should be stated as it is, and It's rarely a good idea to change the URL structure of an established website because it could cause issues.
Install SEO plugin
The majority of website platforms already have basic SEO capability. Install a plugin for SEO if you're using WordPress, though. Without one, it's challenging to implement even the most fundamental SEO-recommended practises. Rank Math and Yoast are both excellent choices of SEO plugins.
In the last part of this blog series, we will finally cover the main point of working on SEO: getting on Google. Stay tuned for more!