Digital marketing is a fast evolving industry. Whether you're a business owner or a digital marketing practitioner, it's important to keep up with the latest trends and practices. This includes having the right SEO strategies in accordance with 2023. 
Over the years, search engines have the tendency to constantly change. Google for example is always improving its algorithm and this usually has a major impact on SEO. To keep you in the loop, learning newer strategies is absolutely essential.  
So what's special about SEO? SEO is probably digital marketing's largest component. It can help your business stand out and rank higher on search engines like Google. It also uses an organic approach to attract the right kind of users.
There are many aspects of SEO and if you'd like to know more about what SEO is, have a look at our previous blog. This article will discuss the 9 best SEO practices in 2023. To boost your online presence, the following should be applied to your digital marketing strategies. 
Overview:
Digital PR

AI Generated Content 

Double E-A-T (E-E-A-T) 

Semantics SEO

Write for the Reader 

User Experience (UX)

Mobile Friendly Site

Image SEO

Meta Titles and Descriptions

Let's begin!
1. DIGITAL PR
Digital PR shares many similarities with traditional PR. Nevertheless, digital PR tends to focus on online based strategies opposed to conventional offline methods. This gives you the opportunity to reach an audience which cant be reached through regular PR. 
A successful digital PR campaign can build better brand authority and improve visibility. It uses a variety of tactics such as:
Online interview and reviews 

Online press release 

Building connections with online journalists and bloggers 

Publishing online content 

Business profiling


Digital PR is also used as a link building tool. This is probably its largest component due to its effectiveness in earning relevant backlinks. This will be highly substantial considering Google's most recent spam update. 
These links are usually harder to replicate and they have a high chance of providing top funnel awareness. This is one of the best forms of exposure and a great way to establish your brand. Digital PR rose to popularity in 2021 and it's highly recommended for your 2023 strategy.
2. AI GENERATED CONTENT
AI is a growing sector and it has extended into the realm of SEO. This comes in the form of AI generated content such as blogs, product descriptions and marketing materials. AI has revolutionized content output by helping businesses produce content 10x faster than humans. 
In the beginning, there was an initial discourse between Google and AI generated content. This is due to the low quality content that was churned out by AI applications. However, newer tools like ChatGPT are capable of producing high quality content.
This has caused a shift in Google's algorithm and similar tools are being developed on a regular basis. If the trend continues, the future of content creation will be dependent on AI. Here are some tools you can try for now: 


3. DOUBLE E-A-T (E-E-A-T)
E-A-T was introduced in 2014 as a framework to produce high quality content. It has become one of Google's most important elements ever since. In December 2022, Google introduced "Experience" as an addition to the E-A-T guidelines. 
Now known as E-E-A-T, the components of these guidelines are as follows:
Experience

in providing first hand knowledge in a topic.

Expertise

in producing high quality content. 

Authoritativeness

of the publisher, author or platform of the content. 

Trustworthiness

of the publisher, author or platform of the content. 
This adds a whole new dimension to how you create content. The writer/publisher will have to demonstrate personal experience in a specific topic on top of expertise, authority and trust. The recent update has also placed trust at the center of this concept. 
In other words, showing experience, expertise and authority in a certain topic will make your content trustworthy. Google prioritizes content that implements these guidelines as it protects users from misleading information. Keep that in mind the next time you create content. 
4. SEMANTICS SEO
The single keyword approach is no longer enough. Google's algorithm used to evaluate web content solely based on keywords. Google has since evolved as there's a lot more that goes into language other than keywords. 
In short, semantic SEO is the process of writing content around topics. It has deviated from the single keyword approach as Google has shifted to more semantic driven content. But how do you create semantic content? 
For starters, you can give more meaning and depth to the content you publish. Adding more context to your work will help site crawlers understand your content better. This can be done by:
Asking more questions through your content. 

Use multiple keywords in the same cluster. 

Analyze your competitors' content to see how you can improve yours. 

Use synonyms and terms to add more depth to your content. 

Improve the length of your content to offer a more comprehensive experience. 
5. WRITE FOR THE READER
SEO writing is the process of writing with the goal of ranking. It requires a technical approach with the warranted use of keywords and external links. Oftentimes, writers worry too much about writing for search engines rather than people. 
Written content should be intended for your human audience first and foremost. This is Google's underlying rule which tends to get lost in the mix of complex SEO practices. Focusing on your audience will help you write relatable content and increase your chances of getting ranked.
Besides that, writing can also attract more backlinks. If your content sounds unnatural due to keyword stuffing or a lack of emotion, there's a low chance that sites would want to link with you. Avoid the mistake of writing for search engines and shift your attention to an audience. 
6. USER EXPERIENCE (UX)

UX refers to the experience a user has on a particular website. Various factors influence a website's UX such as graphics, layout, text and interface. The combination of these elements will shape how a user interacts with your website. A good UX design has many benefits such as:


Ease of use 

Better interaction

Increase customer retention 

Better conversion rates 

Less resources wasted 


This will also contribute to better SEO as Google loves a well designed website. Google introduced the Core Web Vitals in 2020, a tool to measure the effectiveness of your website. It has been an important metric ever since which you should take into consideration. 
The Core Web Vitals report can show how your website is performing based on data gathered from users. You can then make improvements based on the obtained results. 
7. MOBILE FRIENDLY SITE
Mobile friendliness is essential especially in a day and age where people are on their phones most of the time. Also known as mobile SEO, optimizing your website for mobile use can have many benefits. This can be achieved by: 
Implementing a

responsive web design

which can adapt to any user behavior or environment (platform, screen and orientation).

Using a

mobile first design

by making your website primarily for mobile use. 

Creating a

separate website especially for mobile use (make sure it links to the desktop version).


Regardless of your choice, you should take note that Google has shifted to mobile first indexing. In other words, Google uses the mobile version of your site for indexing and ranking. This makes it ever more important when it comes to making a mobile friendly site. 
If you are using WordPress, make sure Googlebot is not blocked from your plugins, themes and CSS files. It may render your site mobile unfriendly as a result of not being indexed. Be sure to check your Google Search Console to make sure your files are not blocked.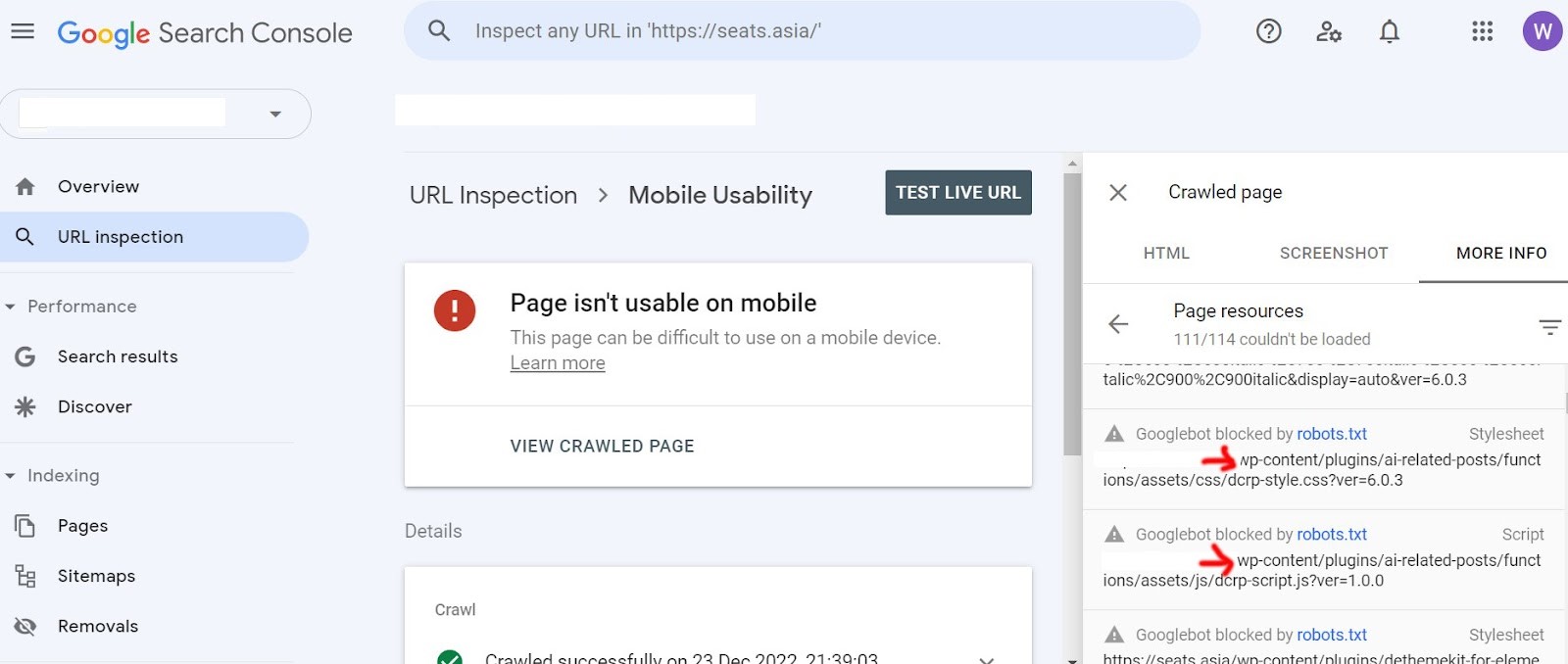 8. IMAGE SEO
Humans are visually driven and images play an important role in influencing consumer behavior. Visual search is the process of looking for something through an image. It involves the use of pictures, screenshots, photographs and online images.
Google and search engines on platforms like Amazon and Pinterest have capitalized on visual search trends. According to research, visual search provides a quicker and more immersive experience compared to text. 
It also comes down to using the right form of images. As with most content, search engines will pick up on images that are not SEO friendly. This includes image format, copyright issues and the authenticity of your pictures. 
With that, be sure to optimize your images before uploading them. Image optimization is just as important as any other SEO practice.
9. META TITLES AND DESCRIPTION
Meta titles and descriptions don't really impact SEO but they should be part of your SEO strategy. It will have an indirect effect on ranking and a direct relation to your click through rate (CTR). This can inherently increase the number of users to your website.
To put it simply, they are one of the first things users see online so you should make the most of your titles and descriptions. Google has recently introduced a "continuous scrolling feature" and this can be very useful for lower ranked websites. 
Prior to this, users can see up to six pages of search results before they need to look further. With the new feature, lower ranked sites can gain more visibility which makes titles and descriptions ever more important. Click here if you'd like to drive more traffic with meta descriptions.
THE BOTTOM LINE
SEO is one of digital marketing's largest components and it's important to apply these practices to your 2023 strategy. Keep in mind that SEO is a continuous process and we should constantly update our knowledge to move in tandem with google guidelines. 
SEO has developed a strict ranking system as the online world expands and competition increases. It has long evolved from the simple days of keywords and links.