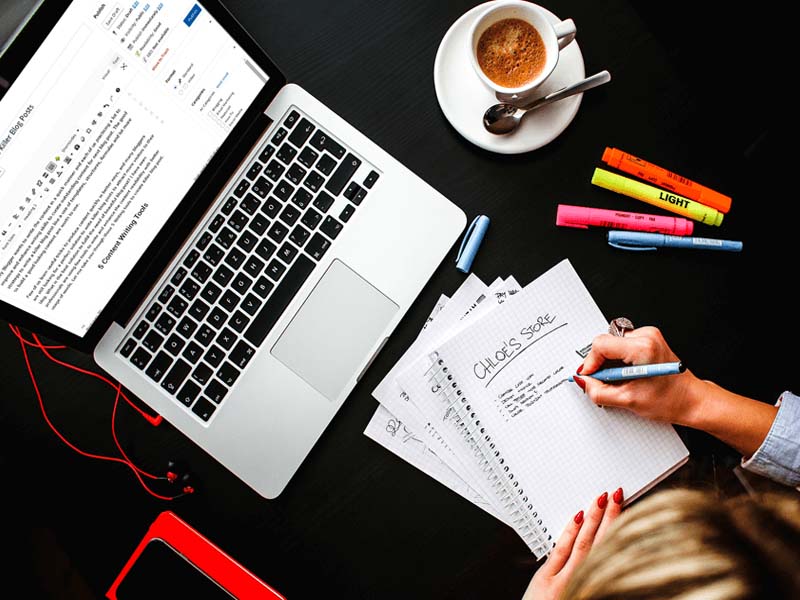 Your website's blog is more than just a place for you to express your thoughts and ideas; it also serves to track your target audience's online footprints and improves the searchability of your site for SEO purposes..
If your company blog lacks organic visibility and your target audience's footprints are scarcely visible, you'll be looking for ways to entice them. Unfortunately, many internet resources recommend doing things like surfing social media networks and comments, sending polls, and even using blog idea generators to come up with blog post ideas.
However, the biggest downside of these methods is the lack of data demonstrating broad audience interest, which only leads to unsupported conclusions.
So, how can you know if the themes you chose will attract and engage a sizable section of your target audience?
One thing is certain: researching blog themes necessitates planning.
Let's dive right into the process of creating a content plan for your company blog utilising a strategic and data-driven approach.
Step 1. Outlining Your Blog Strategy
All else comes after a well-documented approach. The steps to defining one for your blog are outlined below.
You can skip to Step 2 to define your blog's primary subjects if you already have an all-encompassing plan for your purpose, personas, and goals.
Determining Your Business Blog's Purpose
This will assist you in establishing clear objectives for all of your blog content. Consider the following questions:
What's the point of having a blog?
With your blog, what aspect of your business are you hoping to improve?
What do you want your readers to do after they've finished reading your content?
Consider how the content on your blog will fit into your overall content strategy and, as a result, what kind of content visitors should anticipate to see based on where they are in the buyer's journey when they come.
The goal of your blog could be:
Attracting quality traffic;
Generating leads;
Driving conversions; or
Educating users about your product.
After you've determined the stage and objective, you'll have a clearer idea of which topics are appropriate for your blog and which are better suited to other pages.
According to the CMI, blog entries are the most effective content category for increasing brand awareness among B2B and B2C content marketers. According to HubSpot, B2B marketers that blog get 67 percent more leads than those who don't, so it's crucial to think about how a blog could fit into your overall marketing strategy.
Setting up Your Blog Goals
Consider a goal as a first step in achieving lucrative results for your company, whether in terms of savings or sales. Make your objectives specific and measurable, such as:
Attract X% of the total addressable market (TAM);
Increase organic traffic by X%; or
Get X% more leads in a year
Tip: Choose a goal-setting framework that suits you best to keep track of your progress and see the impact of your blog with the correct metrics. SMART, CLEAR, KPIs, or OKRs, for example.
Defining Your Target Audience
Your blog's readers aren't always willing to buy your stuff.
Make sure you understand what your audience wants on a personal level so you can create tailored, optimised content to appeal to them.
Create a portrait of each persona, including their age, gender, interests, education, and job title, and use our Ultimate Guide to Content Strategy's Jobs to Be Done (JTBD) structure to gain a better knowledge of their needs.
Deciding on the Content You'll Publish
Consider what value you'll provide with your material and how you'll set yourself apart from your competitors' blogs.
Create a mission statement for your blog next. Include your company's distinctive content vision, as well as the value it delivers, the audience it serves, and the values it upholds.
With all of this in mind, choose the content you'll publish. According to Andy Crestodina, one strategy is to think about two types of content strategies: Publications and Libraries.
Publications cover the most recent industry news as well as popular themes that may become obsolete in the future. Emails and social media are used to distribute this content to subscribers.
Libraries focus on material that is evergreen, such as how-tos, best practises, and guides. This content is circulated naturally through search engines, bringing your brand to the attention of your target demographic.
Considering how you'll contact your audience — through search engines, social media, or email, for example — might help you get started.
Tip: You don't have to choose between Publications and Libraries; instead, pick a percentage distribution that works for your blog approach. Flying Hippo, for example, follows the 80/20 approach, which entails releasing 80 percent evergreen content and 20 percent timely information.
Step 2. Identifying Your Core Blog Topics
You can gain a bird's-eye view of your future editorial plan by identifying your blog's primary subjects.
Take, for example, the HubSpot topic cluster model. The aim is to pick five to ten main subjects for your blog and then expand on them with various data sources.
Introducing Topic Clusters
Topic clustering is a search engine optimization strategy that focuses on subjects (rather than keywords) that:
Improve the structure of your website;
Make it easier for Google to find similar material, and;
Increase your search engine presence.
You'll need to publish to replicate this model on your blog.:
A 'pillar' page that covers a broad topic and usually targets a high-volume keyword (for example, 'SEO copywriting'); and
Several 'cluster' pieces of content that focus on specialised, long-tail keywords (for example, 'How to produce SEO content', 'What is SEO copywriting?').
According to HubSpot, a subject cluster might look like this:
The key benefit of this grouping strategy is that if just one cluster page from the group performs well, it boosts organic traffic to the entire cluster – but only if the interlinking is effectively optimised.
Each piece of cluster content should connect back to the pillar page, and the pillar page should link back to the cluster parts.
Determining Your Pillar Topics
Consider your pillar themes in terms of your product or service to come up with a list.
You'll need to go through your product's value proposition and character portrait in this phase.
Combine your audience's problems with the problems your product solves to come up with a common theme for your blog.
Start by studying a specific feature that solves a specific user problem to identify the first pillar topic. Then, using this model, define the problem as a broad concept:
Product (or specific feature) > Specific user problem topic > Pillar topic
As an example, let's pretend I'm creating a blog for copywriters. I sell an SEO copywriting tool (service) that assists my customers in creating optimised texts (issue), a notion known as 'SEO copywriting' (pillar topic). Other pillar themes I might specify are things like "content marketing," "content management," and other topics that are relevant to both my audience and my tool.
To keep your blog's emphasis clear, create 5-10 pillar subjects and save them in a file to elaborate on later.
Because this model is based on organic activity, be sure that your pillar themes are Googled. To accomplish so, use a keyword research tool to look out more popular synonyms for each of the themes.
According to Liz Moorehead, your key pillar topic should have a significant amount of search volume, but not too much: 500 monthly searches may not be worth your attention; 1,200 to 6,400 is more appropriate; and 33,000 is excessive. Keep in mind that these are simply estimates that may differ dramatically from one industry to the next and from one country to the next.
After you've decided on a pillar issue, the following step is to identify cluster topics that you may investigate utilising various data sources.
Recommended tools: 
Step 3. Expanding Your Topic List
Identifying your main topics will have pointed you in the proper path when it comes to coming up with new blog topics.
Next, consider topic research using a variety of sources, such as:
Brainstorming;
Competitors' keywords;
Search and social media trends; and
Keyword research tools.
Brainstorming Topics
Your organisation most likely already has a plethora of industry information to draw on for blog post ideas. Invite your marketers, product managers, sales and account executives to identify the most important themes for your users.
Tip: on't have a team or don't like brainstorming? Proceed to the next phase after you've come up with at least three new ideas that answer the questions from each group below.
1. Industry Topics
These themes may help you attract people who are really interested in your sector, seeking for trends, or looking to put best practises into reality.
Ask yourself:
What are the most hotly debated topics in your field?
What are the most recent hot topics?
What do the professionals in the field have to say?
What are the most contentious issues?
2. User-problem-related Topics 
Creating content that revolves on these ideas can help you attract people who are eager to solve an issue or profit from solving it. 
These subjects might alternatively be referred to as "issues" or "opportunities." Focus first on the problems that your target audience is experiencing, and then on the benefits that employing a solution to that problem could provide. Consider the types of questions people commonly ask and the end goals they aim to attain.
Ask yourself:
What problems do people suffer from in your industry?
What fears do they have?
What are they trying to achieve?
3. Product/service-related Topics
Creating content on these themes could help you attract people who are looking for solutions to their problems.
Consider what kinds of solutions people are looking for and how they go about finding them.
Consider the following questions:
What products/services are you competing with?
How do users search for a product like yours?
What products/services are popular in your industry (even if you don't compete with them directly)?
What to do next: In a file containing your pillar themes, collect all of the topics you've identified. Make sure you've labelled each one with the data source. This column will assist you in prioritising your topics, determining where to find further material, and determining how to distribute your articles. This file will be revisited later.
Recommended tools:
Topic Research When I'm stuck, I use it to come up with popular themes or to extend a list of possibilities. Learn how to use the tool to produce content ideas in a specific region and based on a particular topic.
Collecting Competitors' Keywords
The next step is to look at what your direct and indirect competitors are talking about in terms of relevant themes.
Even if they don't provide a product similar to yours, keep in mind that industry blogs are your competition. If you want to gain organic traffic on issues that are important to your audience, you should keep an eye on them.
Analyzing Competitor Blog Focus
Begin by visiting your competitors' blogs and looking through the categories to see what they're all about. Check tags and, if feasible, filter them to determine which categories are the most common on their blog.
Your competitor's pillar subjects might be any of these tags or categories. If they fit your strategy and have enough volume, consider including a number of them in your plan.
Conducting Competitor Keyword Research
After that, you'll need to conduct competitive keyword research to identify any gaps in your plan.
Without the use of analytics tools, this step would be impossible. Take a free 7-day SEMrush trial and use the Organic Research report to identify keywords that your competitors rank for. Not only will you be able to search over 18 billion keywords, but you'll also have access to other data-driven tools to help you design your content strategy.
Check keywords for:
The entire website (competitor's domain); or
The blog section only (competitor's subdomain).
Now, compile a list of the most relevant organic keywords that your competitors rank for. Filter terms by a specific word, such as 'SEO.' I prioritise collecting high-volume keywords, but I also include those with lower volumes yet still have strategic value for our company.
What to do next: Export your keywords and paste them back into your original document. Don't forget to mention the source of your data
Recommended tools: 
Organic Research to see what keywords my competitors are using. Learn how to use SEMrush to locate low-competition keywords.
Keyword Gap to discover keywords that my competitors rank for but my blog does not. Learn how to locate your keyword gaps..
Finding Trending Topics
Now, look for themes that are currently popular in your sector. This phase will require dependable technologies that can assist you in identifying organic trends that have shown to be of interest to your target audience.
Detecting Trends on Google
Google Trends is the most obvious data source. Enter your pillar themes and the ones you brainstormed in the previous steps one by one. Then look up related questions and see how they're trending (you can compare up to 5 phrases at once).
Examine the inquiries with the highest rise in search frequency. Pay great attention to the 'Breakout' results. These are queries that have seen a significant spike in search frequency because they are new and have had few prior searches, according to Google.
If you notice a surge in a certain month, it's possible that the keyword is seasonal. Make a note of it in your file so you may write an article about it later.
Analyzing Social Media Trends
The exact procedures for spotting trends on each social site may differ depending on where your audience spends their time. However, because social trends are primarily individualised and related to your profile interests, the overall workflow is the same.
Subscribe to the media and influencers in your business. Keep an eye on what's being discussed and what's trending in your feed./p>
Assess each post based on its level of involvement. To get a sense of the extent of the audience's general interest, compare the number of likes (or other sorts of reactions) to the number of subscribers.
You might also want to look on Reddit to see whether your industry has its own subreddit. If you're lucky, you might be able to sort postings during a given period by 'Hot' (trending) or 'Top' (most upvoted (liked)) themes.
You may utilise Reddit for keyword research to get extra content ideas for your content strategy, in addition to trends.
Another approach to learn about social media trends is to look for industry research studies, such as the one we published last year called "Top Twitter Trends.
Using Data-driven Tools
While manual research on Google Trends can take hours, there are other options for finding popular subjects far more quickly. Using data-driven tools like Topic Research, which is free to try, you can quickly uncover popular topics based on a specific geography.
By utilising the trending filter, you may search for subjects that have been trending online during the last 60 days. A fire indicator indicates that a topic is currently trending. You'll also be able to observe the topic volume right away, allowing you to gauge your audience's natural interest.
You may start watching your competition or industry experts with Social Media Tracker to avoid manual research in social media. This allows you to find the most popular Facebook, Twitter, and Instagram posts, as well as YouTube videos and Pinterest pins.
What to do next: To your original file, add new topics. Don't forget to mention the source of your data.
Recommended tools: 
Researching Keywords
It's now time to refine and expand the list of all the themes and keywords you've compiled.
You can utilise Google Autocomplete, which is one of the best free keyword research tools, or you can use your free SEMrush trial for this stage. SEMrush's Keyword Magic Tool, which has over 18 billion keywords with volume, keyword difficulty, CPC, and other data, can be used to research keywords.
Broadening Your Keyword List
This phase will assist you in locating keywords or synonyms for your topics that you may have neglected previously. Begin by researching a single topic or phrase from your list one at a time to expand your keyword list.
Look for enlarged keyword phrases that include the term you're looking for. Find long tail keywords that are less common yet more specific. Based on your selection of seed keywords, look for semantically similar keywords. To see these, use the Keyword Magic Tool and select the 'Related' filter.
Rep these processes for any keyword for which you'd like to get more suggestions.
Tip: What can I say to be more specific? Visit our 'Keyword Research guide' to learn how to utilise SEMrush to conduct keyword research.
What to do next: Copy and paste new keywords into your document.
Recommended tools: 
Finding Related Questions
Make sure to look for questions that involve your keywords, since this will help you better grasp what a searcher is looking for.
Answering specific queries in your blog posts can help you provide value to your readers while also increasing your chances of appearing in featured snippets and voice search results.
Using Question Keyword Tools
You can identify popular questions by using programmes that collect people's search queries, such as Topic Research, in addition to examining Google's "People also ask" section in the SERPs. Simply type a topic and use the filters to look up popular queries.
What to do next: Copy and paste your questions back into your original document. Don't forget to mention the source of your data.
Recommended tools: 
Step 4. Filtering and Grouping Your Topics
After you've compiled a list of potential themes and keywords, you'll need to choose the ones that will yield the best results for your blog.
Then, based on keyword popularity and competitiveness, you'll discover how to tidy up your topic list.
We'll also return to the subject cluster model, allowing you to organise your keywords into clusters.
Filtering Keywords by Keyword Volume and Difficulty
This is where a keyword research tool that records search volumes comes in handy, so you can be confident that your content strategy is based on your audience's natural interests.
The essential strategy is to concentrate on keywords with:
The highest volume – The more popular a keyword is, the bigger the volume; and
The lowest keyword difficulty (KD) / keyword competitiveness – The less competitive a keyword is, the lower the measure.
Keyword Manager is the perfect tool for this activity if you're using SEMrush. Copy and paste all of the keywords from your file into the programme, updating the metrics for each one.
Aim for keywords with a low KD (about 60% or so), as these should be the most straightforward to start with.
Keep the keywords with a low volume and a low KD in mind as well. They may not offer you the greatest traffic, but you may have the chance to rank first in Google for them in your niche.
Also, if any of your questions have no or low volume, don't rush to get rid of them. They are probably too long, but still contain a popular keyword. Keep all the questions in a separate tab named 'Backlog', and get back to them when you start creating an article. These questions will help you come up with headers or subheaders for your posts.
You should be able to eliminate any irrelevant, low volume, or highly competitive keywords that aren't helping your approach at this point.
What to do next: Export the keywords to a file when you're finished. Clean up your sheet and only keep the metrics that are important to you, such as volume and KD, as seen above.
Recommended tools: 
Keyword Manager to keep track of my keyword list's most recent stats and to prioritise keywords
Grouping Keywords by Topic Clusters
The last step is to group your keywords into the 5-10 main categories you identified before.
To do so, you'll have to manually associate each keyword with a pillar topic. You can stumble across a more general or popular topic that suits your pillar topic selection through manual filtration and grouping. This is the point at which you can change or contribute to your original topic.
When mapping keywords, don't think about headlines just yet; instead, focus on the end aim. The purpose of this concept is to create a cluster of similar information around your future pillar page.
Pillar pages, which provide a comprehensive summary of a subject topic, are referred to as 'Ultimate Guides' by HubSpot. The cluster content would consist of a number of related pieces on more particular subjects and keywords that are still related to the pillar issue, but in a more limited way.
Using your spreadsheet, begin by introducing:
A pillar topic column with your 5-10 topics; 
A cluster topic column with the remaining topics distributed by core pillar topics; and
A product/feature column for each topic.*
*Remember to consider how your product or feature ties to your pillar themes (we identified this at step 2). Each cluster topic could be related to the same product or feature as the pillar topic. Some of them, however, can be matched with a different product if that product better suits the consumers' wants and topic search purpose.
Because trending subjects have a brief lifespan, you can disperse them throughout the table or keep them separate.
Step 5. Identifying Potential Headlines
Your blog entries must fulfil your audience's expectations — in other words, they must match search intent — in order to earn and maintain high organic ranks.
Understanding the intent allows you to build the best structure for your audience and come up with catchy headlines (and, of course, content).
Here's how to figure out what your keywords' search intent is so you can choose the right post kinds and headlines.
Matching Search Intent with the Buyer's Journey
The following four types of search query intentions are frequently encountered:
Informational: The searcher is looking for information about a specific subject. The query could include words like 'guide,' 'tutorial,' or question words like who, how, and so on (for example, 'how to write SEO articles'). Keywords that are informative may suggest that the user is at the awareness stage (or pre-awareness, if they are not aware of a problem).
Navigational: The person conducting the search is seeking for a specific webpage or website. The name of a brand, product, or service (for example, 'SEMrush Site Audit') is generally included in the query. Navigational keywords could signal that the user is in the research stage and wants to learn more about a particular product or service.
Commercial: The searcher is thinking about making a purchase and wants to learn more about their possibilities. Product modifiers such as 'best, cheapest, top, or review' may be used in the query (for example, 'best SEO writing tool'). Commercial keywords may suggest that the user is in the consideration stage, comparing multiple products with the aim to purchase one.
Transactional: The searcher is looking to buy something. The query may include words like "purchase," "price," "coupon," and so on (for example, "SEMrush subscription plans"). The majority of transactional keywords imply that the consumer is at the decision stage and is ready to purchase a product.
Identifying Search Intent for Your Keywords
Check for keyword modifiers from the previous section (e.g. 'how', 'review', 'price') and, if necessary, type a term into the Google search box to check for any SERP elements to establish search intent for your own list of keywords. Consider the following example:
Featured snippets may indicate informational intent;
People also ask may indicate informational intent;
Site links may indicate navigational intent;
Google Ads may indicate commercial or transactional intent; and
Google Shopping ads may indicate commercial or transactional intent.
You should now decide how to handle terms from your list that aren't relevant to the goal of your blog, such as ensuring navigational keywords lead to category sites and transactional keywords lead to product pages.
Deciding on Post Types and Headlines
After you've established your priorities, you can start thinking about the types of posts and headlines you'll write for your future blog posts.
Remember to think about what the searcher is looking for. When a person types a search word into Google, they expect to receive particular content in a specific format, regardless of how creative your article headline is. You risk losing both your audience and your rankings if you don't supply this for them.
Your topic list should already offer you an idea of what people expect to see on a specific issue. A how-to guide is supposed to cover informational topics that begin with the word "how to", "review" or "best of".
If you're having trouble deciding what kind of material to create, do a search for your topic to see what's available. Your competitors will undoubtedly provide you with valuable information.
You can also go back to your 'Backlog' page and look for questions that are similar and could be used as a title.
Concentrate on headlines that fully and clearly describe what a reader will find inside, such as the problem they will solve or the advantage they will receive from reading it.
Recommended tools: 
Topic Research to discover the most resonant headlines for a topic and gain a better understanding of the user intent;
SEO Content Template to look at the top ten articles for a keyword in a certain place, with an average word count, supplementary keywords, readability, and other factors All of this information aids in determining which content type is most appropriate for a given keyword.
Step 6. Prioritizing Topics Based on Your Goals
Here are some suggestions for aligning your article publication priorities with your business objectives:
According to Your Cluster Topics
Create postings around a cluster that addresses a specific user issue. Create a pillar page for the cluster that brings you the most visibility (high volume), and then start generating cluster articles based on your thorough keyword analysis.
Alternatively, you can start by developing cluster content centred on low-competition keywords to gain some awareness on a topic, and then create a pillar page to provide a more comprehensive look of a high-volume topic. Your pillar page may have a better chance of ranking higher and boosting the entire cluster because of low-competition themes that rank well.
According to the Buyer's Journey
If your blog is primarily focused on one step of the buyer's journey, you should begin creating material for that stage first. Include CTAs and relevant links in your content to assist the reader in moving to the next stage of the buyer's journey.
According to Volume and KD
If you're primarily interested in organic traffic, you should generate content that focuses on keywords with the biggest search volumes and the simplest keyword problems in order to appeal to a larger audience.
According to Your Product or Feature Releases
You might start writing blog entries to support your product or feature release by focusing on any specific user problems it addresses or benefits it provides, which you should have identified throughout the product or feature development stage
It's best practise to provide relevant, optimised information at every point of the buyer's journey. Begin with the issues of the pre-awareness stage and ensure that you take your reader all the way to the end, i.e. the choice stage, which may be accomplished through a different channel than a blog post. Make sure your blog posts are interconnected as well, so the buyer's journey is not disrupted.
According to Trends
If your blog post is a news outlet, you should publish pieces on hot issues as soon as it is practical for you to do so. You won't be able to build a content plan for a specific time period if you're covering trends, but you may still create evergreen material in the background to boost your online presence.Source: How to Research Topics for Your Blog's Content Plan